Want To See Examples of Some of Our Custom Websites?
Below is a sampling of some of the websites we have developed for various businesses. Take a good look at this site and the others listed here. We think you'll find the kind of quality design your site deserves. We offer everything from basic, inexpensive-yet-effective no-nonsense websites to full shopping cart secure-server sites and custom WordPress websites. And all our sites are custom, made-to-exact-specifications websites. If you can visualize it, we can create it! Contact us. You'll be glad you did.
Brochure Style/Informative Websites & E-Commerce Websites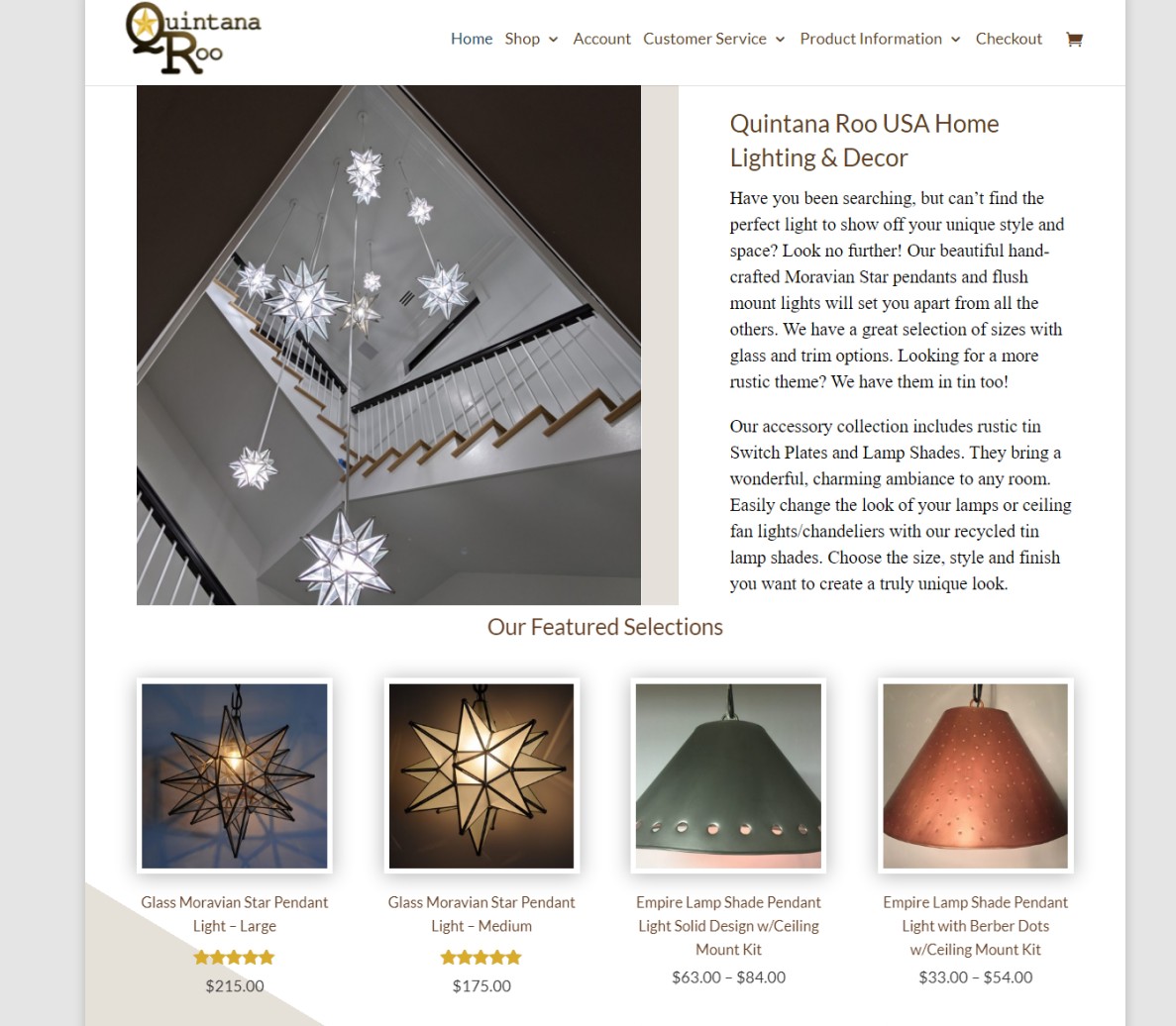 Quintana Roo USA
Producing exquisite lighting and home decor items for home, office or home-office, this WooCommerce site is set up with custom work to offer complex options for things like switch plate configurations, metal finishes, lamp shade sizes and Moravian star light sizes and much more. We've also set up a newsletter to send out regular discount coupons just by signing up.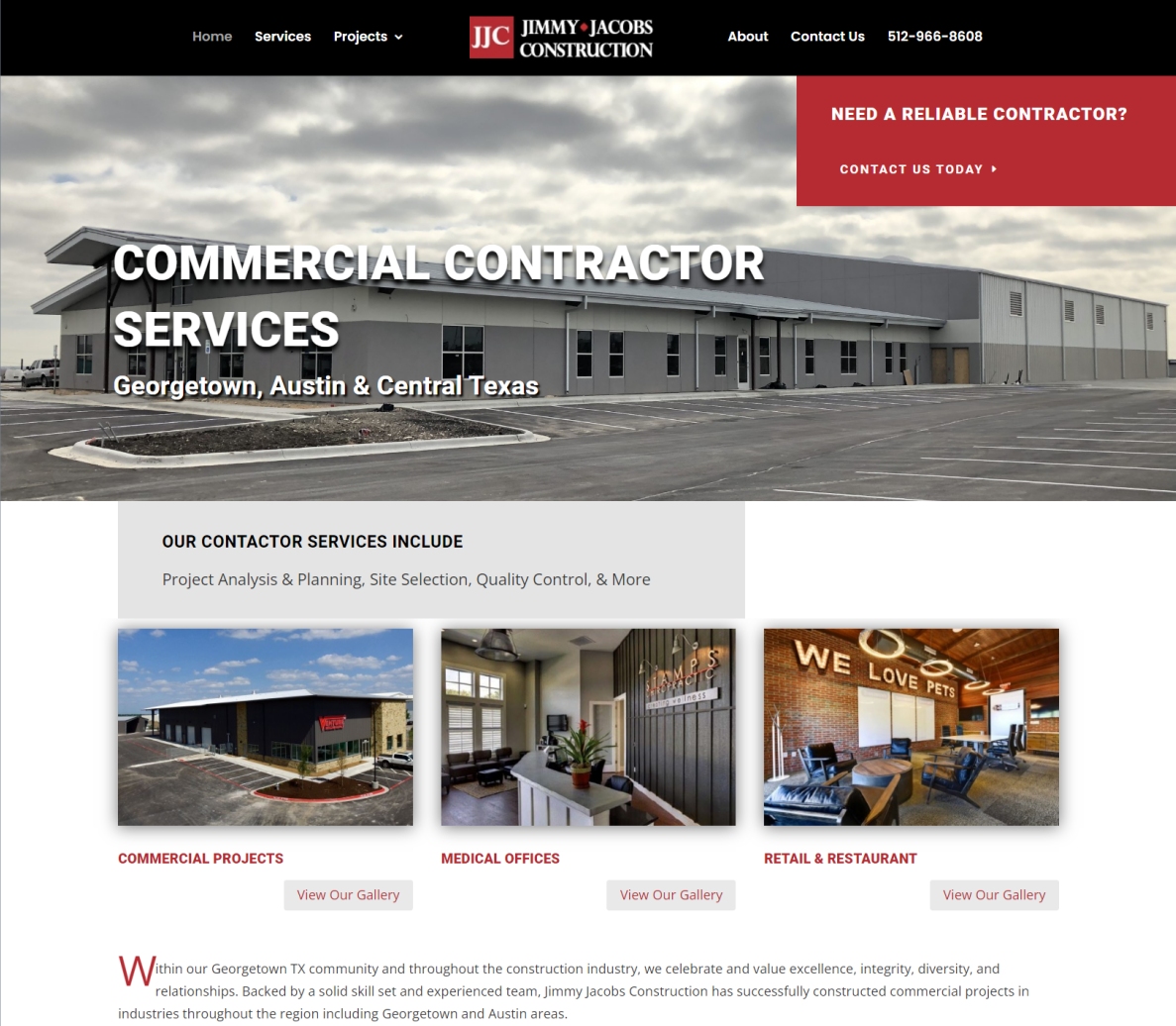 Jimmy Jacobs Construction
Commercial general construction contractor providing expert services in the Central Texas area for medical, commercial, dental, retail and restaurant projects. This is a recent redesign with clean, crisp colors to focus on the quality of their work. There are several project galleries and a simple quote request form.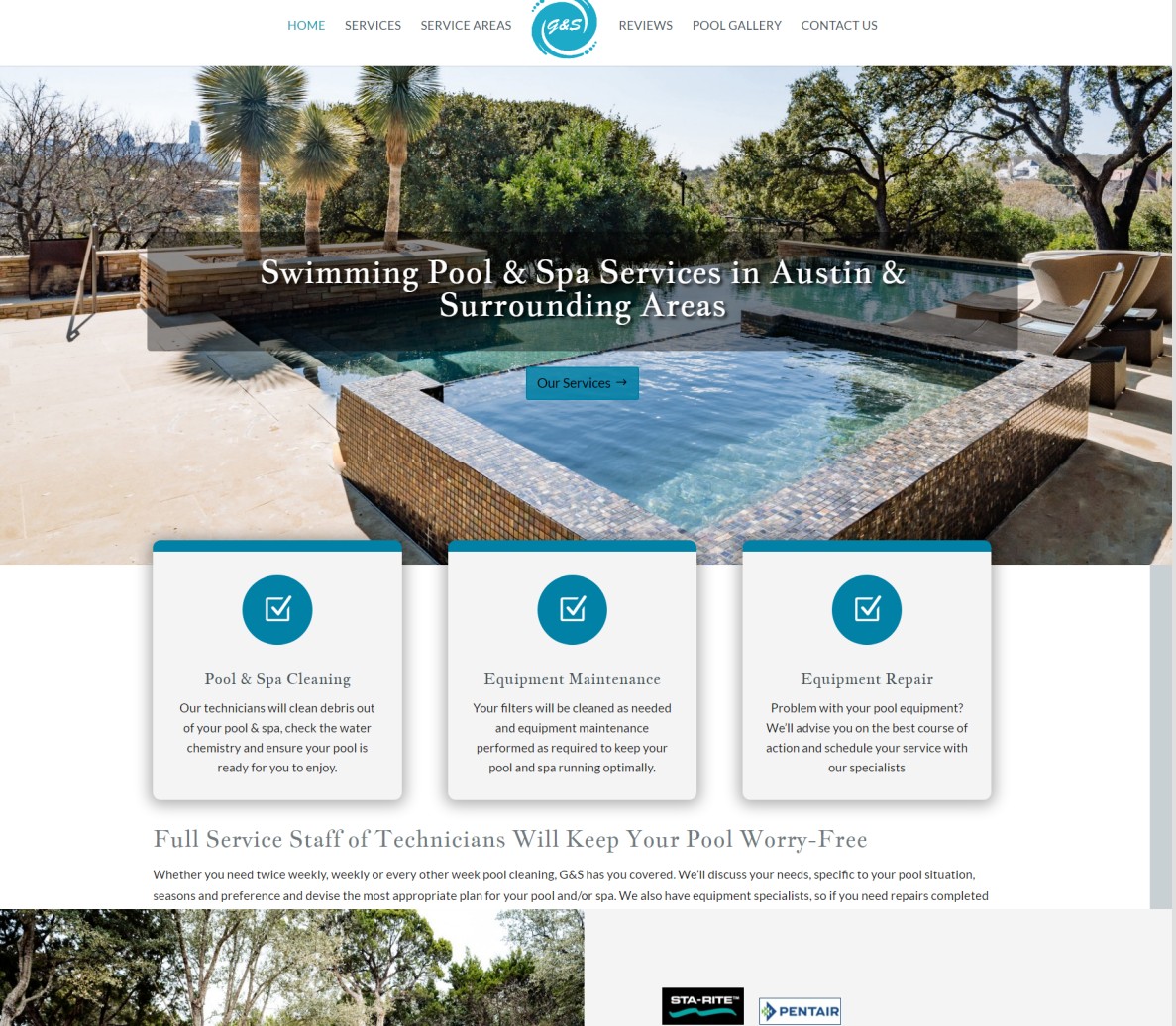 G & S Pool and Spa
This brochure style website includes some great photos plus details of services offered and zip codes served. October Skies provides all website updates, additions to image galleries and all other maintenance needed. The site also includes a convenient form to inquire about service and a page for client reviews.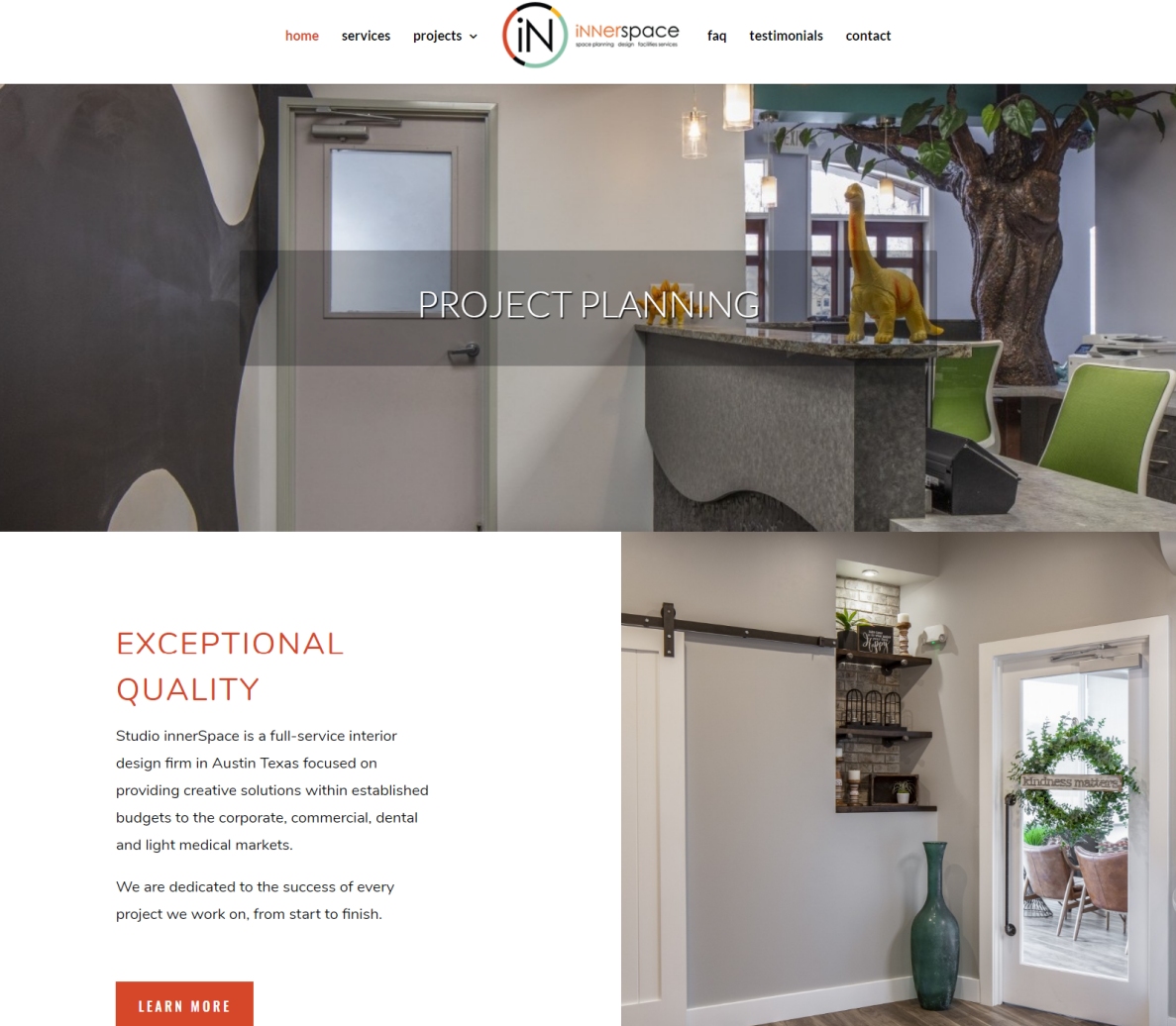 Studio Innerspace
This full service design firm needed a new, contemporary website to reflect the stellar work they do. We started from the ground up and redesigned a site to showcase their work and display their expertise in the commercial, medical and dental interior designs. Created with lots of gallery photos in a masonry layout that works great whether you use a desktop or phone.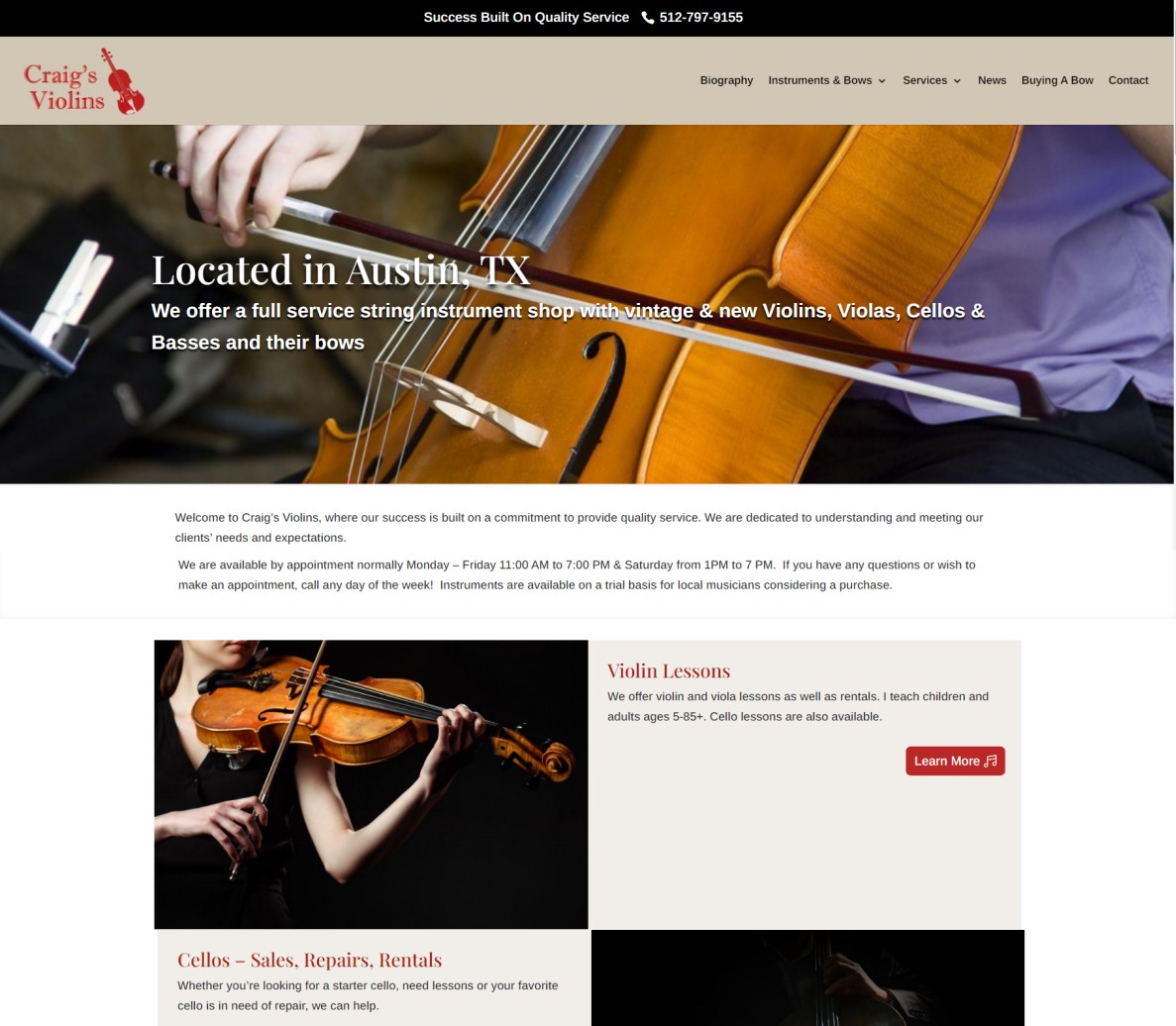 Craigs Violins
Redesign of an existing website to create a more elegant & contemporary feel for the company and also making the website more mobile-friendly. The site is primarily a gallery of various violins, violas etc. for sale as well as information about violin lessons and helpful instruction on bow selection.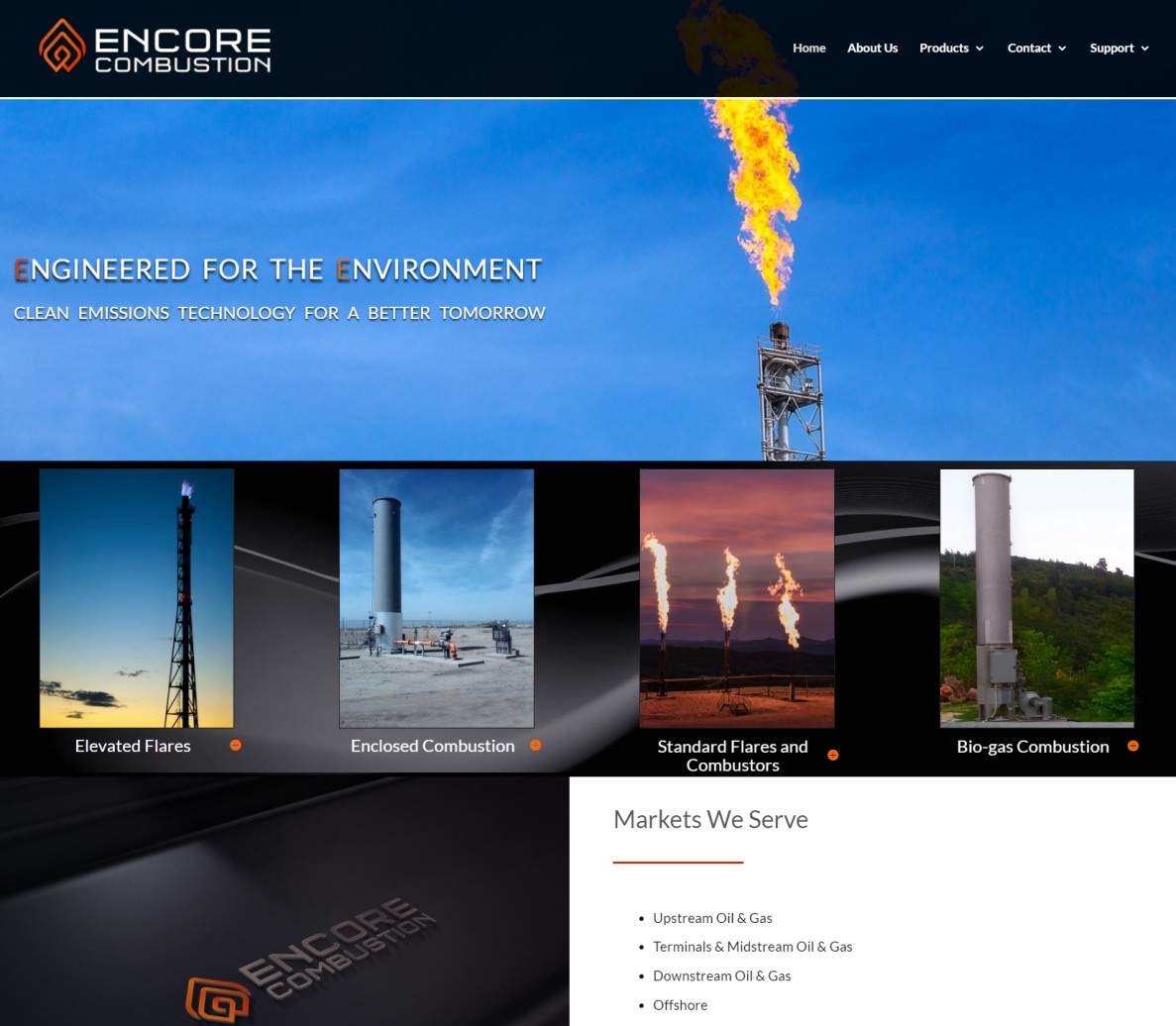 Encore Combustion
A global company headquartered in Austin, Texas, Encore Combustion provides combustion and clean emissions solutions to clients all over the world. They needed a crisp, clean website that catches the eye and reflects the level of service their company provides. The product pages have detailed specs and information as well as an opportunity to book a virtual consultation.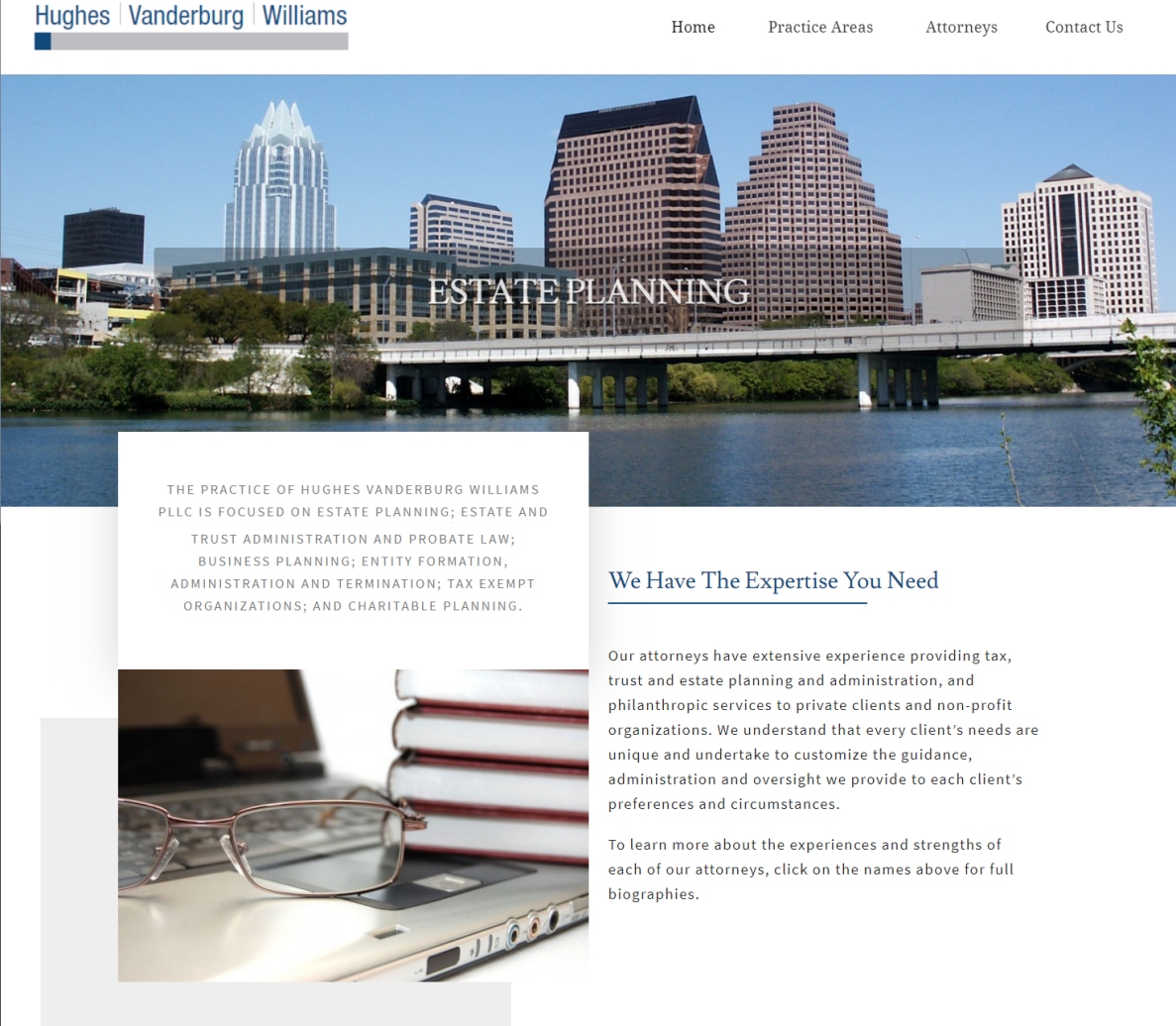 Hughes Vanderburg Williams PLLC
For this Austin law firm, we created a contemporary look that was also mobile friendly. We wanted to make sure to create a site that, while elegant in design, was also easy to read and navigate. We incorporated SEO best-practices and added notations in the back-end so the client is able to update their own site if they choose.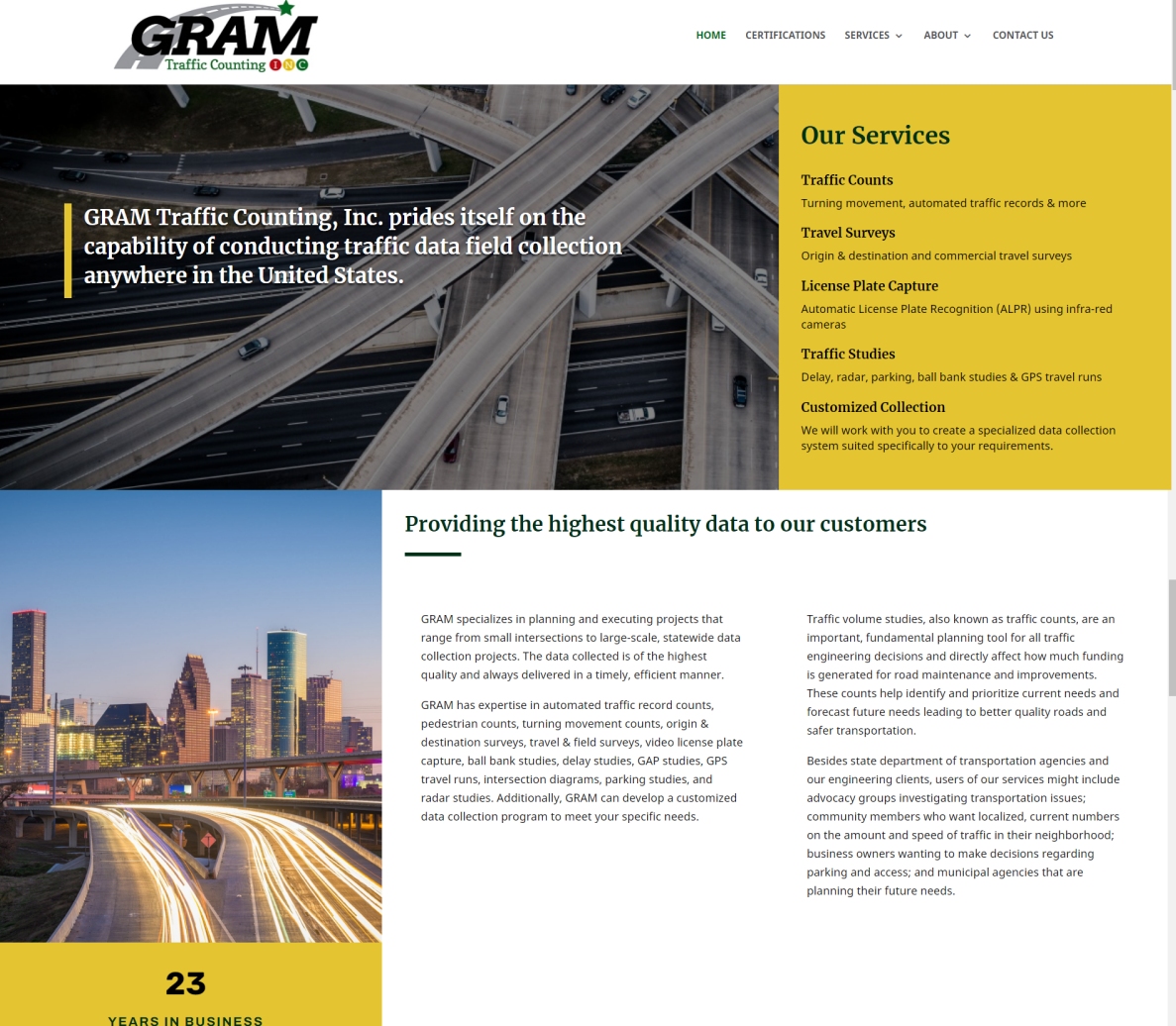 Gram Traffic Counting, Inc.
Traffic Counting services offered across the U.S. This company recently underwent a redesign to create a more mobile-friendly website that better reflects their corporate identity and professionalism while still having a contemporary, graphically pleasing website.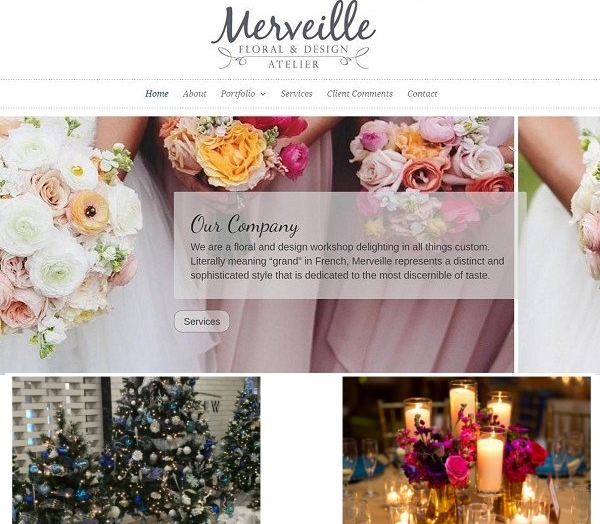 Merveille Events
The focus of this site is to showcase the stunning floral decor and designs of Merveille. We designed the site with that in mind and created some wonderful photo galleries. October Skies maintains the site and adds new gallery selections as photos become available from photographers for these events.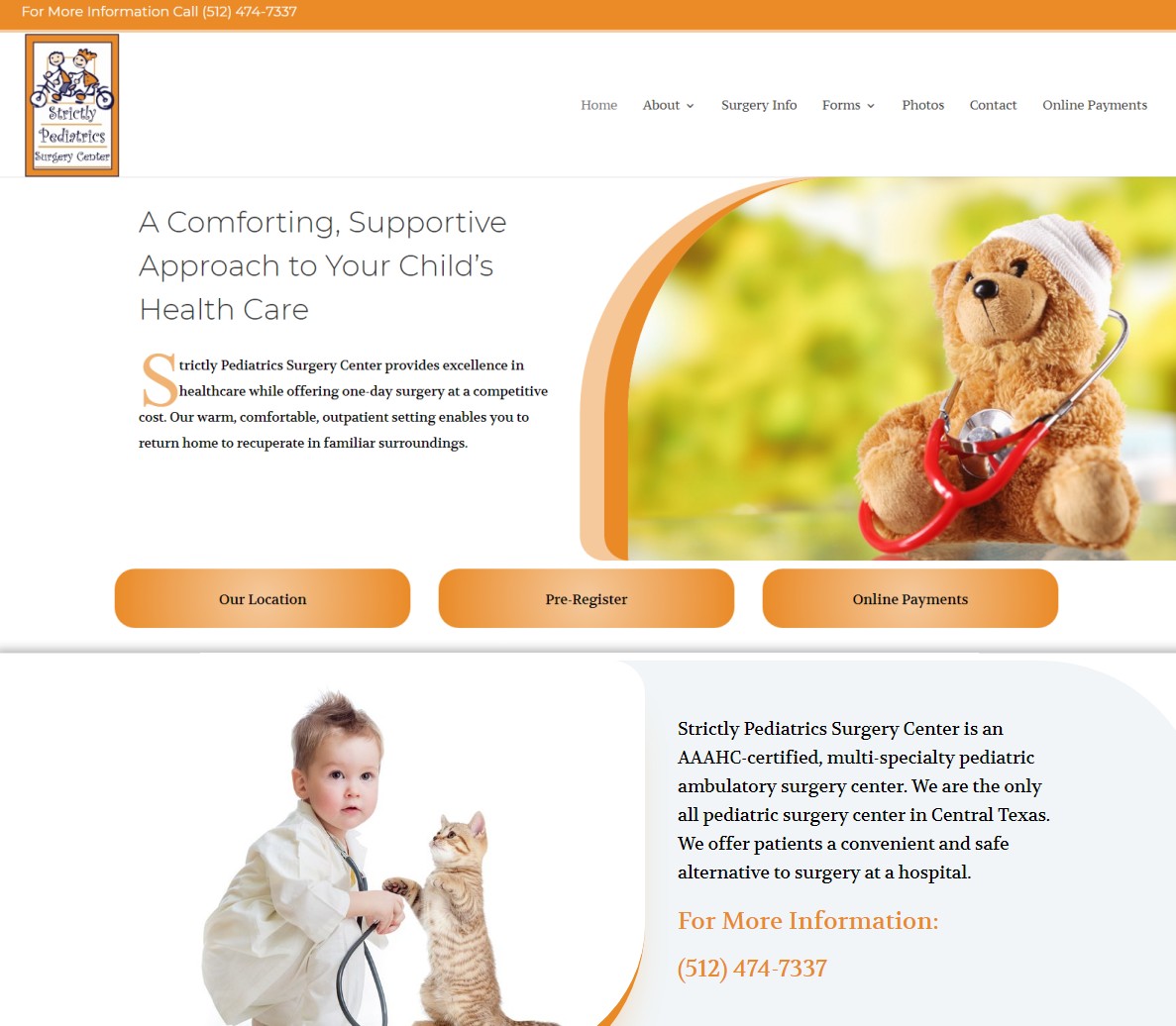 Strictly Pediatrics Surgery Center
This site recently had a complete redesign from their previous Flash-driven site to a fresh new website that is mobile-friendly and emphasizes their focus on a calming, friendly place. There are forms for surgery pre-registration and a survey regarding your child's experience with the surgery center. Included is a lovely photo gallery of the center and a wide variety of surgery information in both English and Spanish.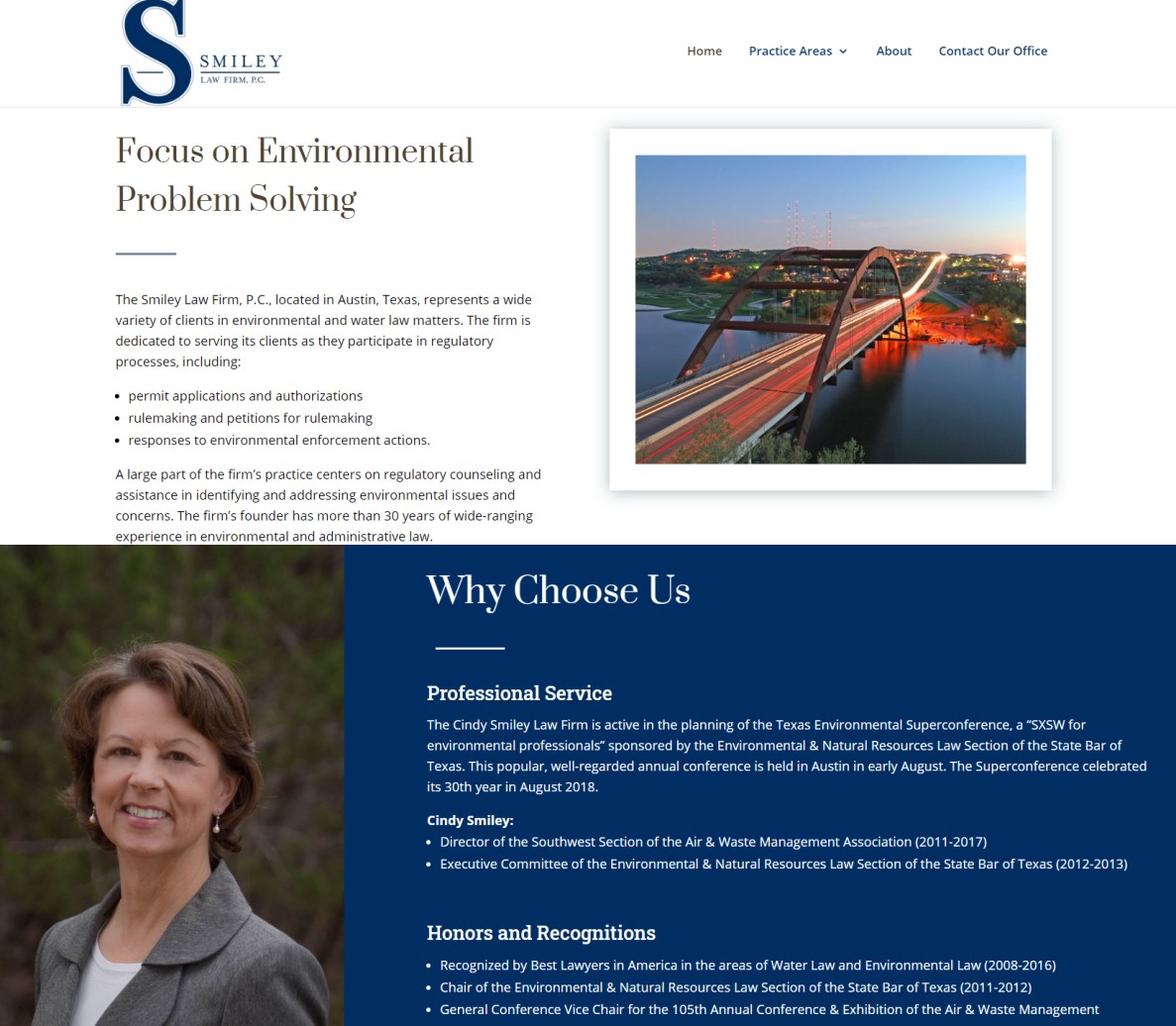 Smiley Law Firm
An Austin attorney firm that specialized in environmental issues. They wanted a site to represent their vision and focus correctly, so we developed a clean, simply elegant website to convey their philosophy. We've included detailed pages on their areas of practice and, of course, made sure it was mobile-friendly.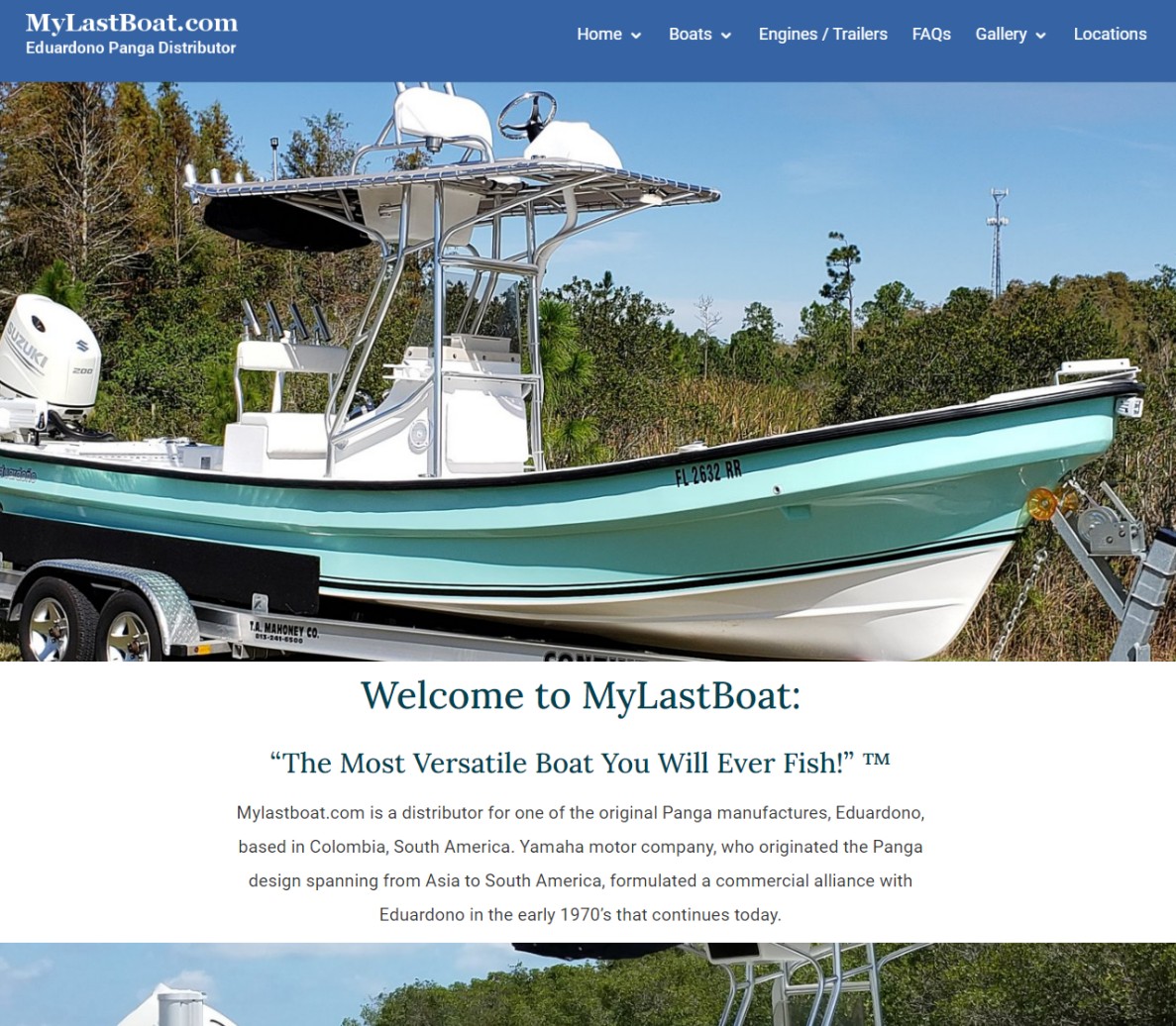 MyLastBoat
Online sales of amazing fishing boats with customized options for each boat. Customers can order colors, color layout, additional options for their boat and then submit their order to the shop. There is a photo gallery as well as a video gallery. Easy to update and manage.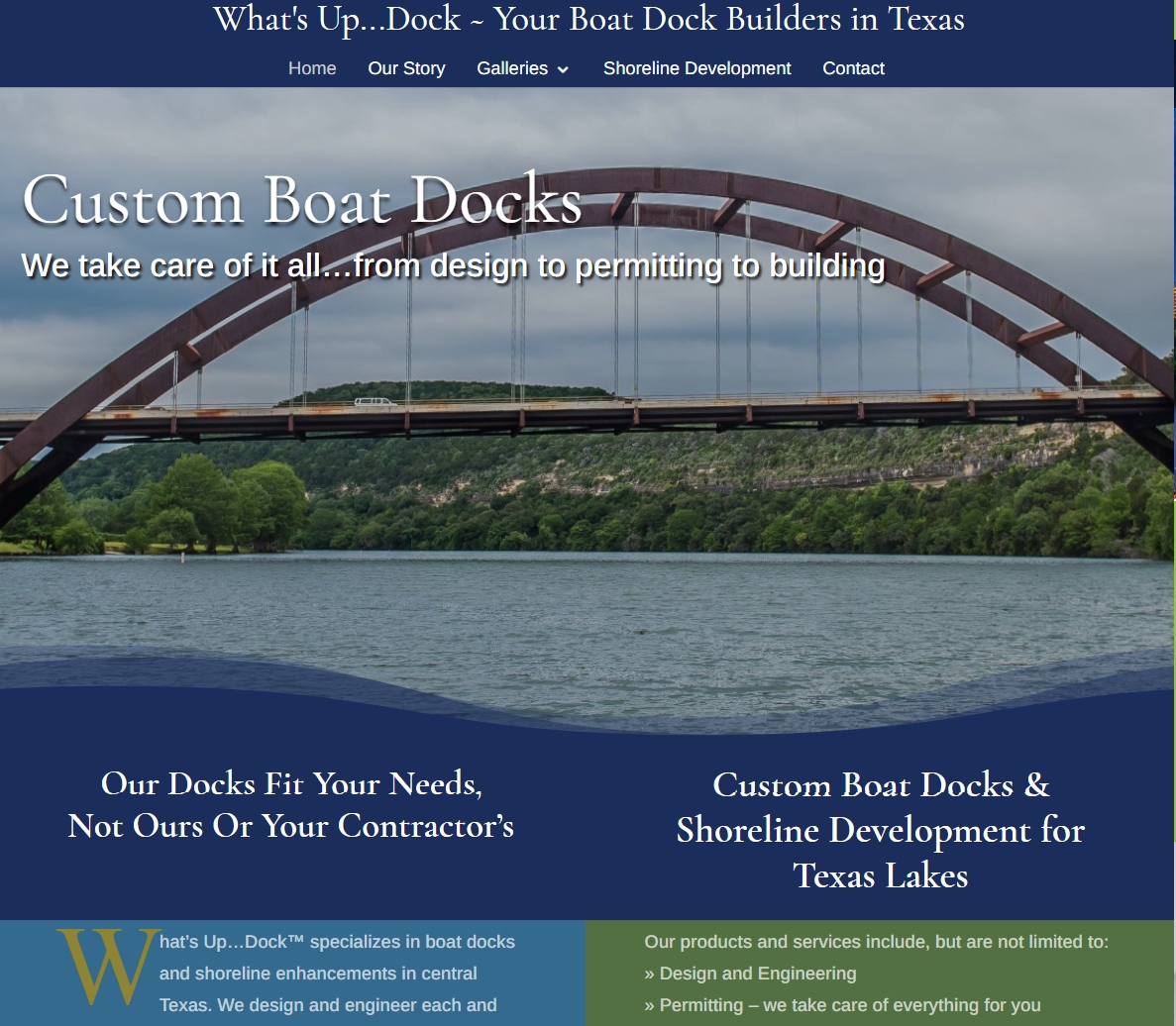 What's Up…Dock
Custom boat dock builder in central Texas with a wide range of boat dock and marina capabilities. You'll find an extensive gallery of their docks as well as marinas and shoreline development projects. Designed to be visually appealing, easy to navigate and to enhance the business identity of the company.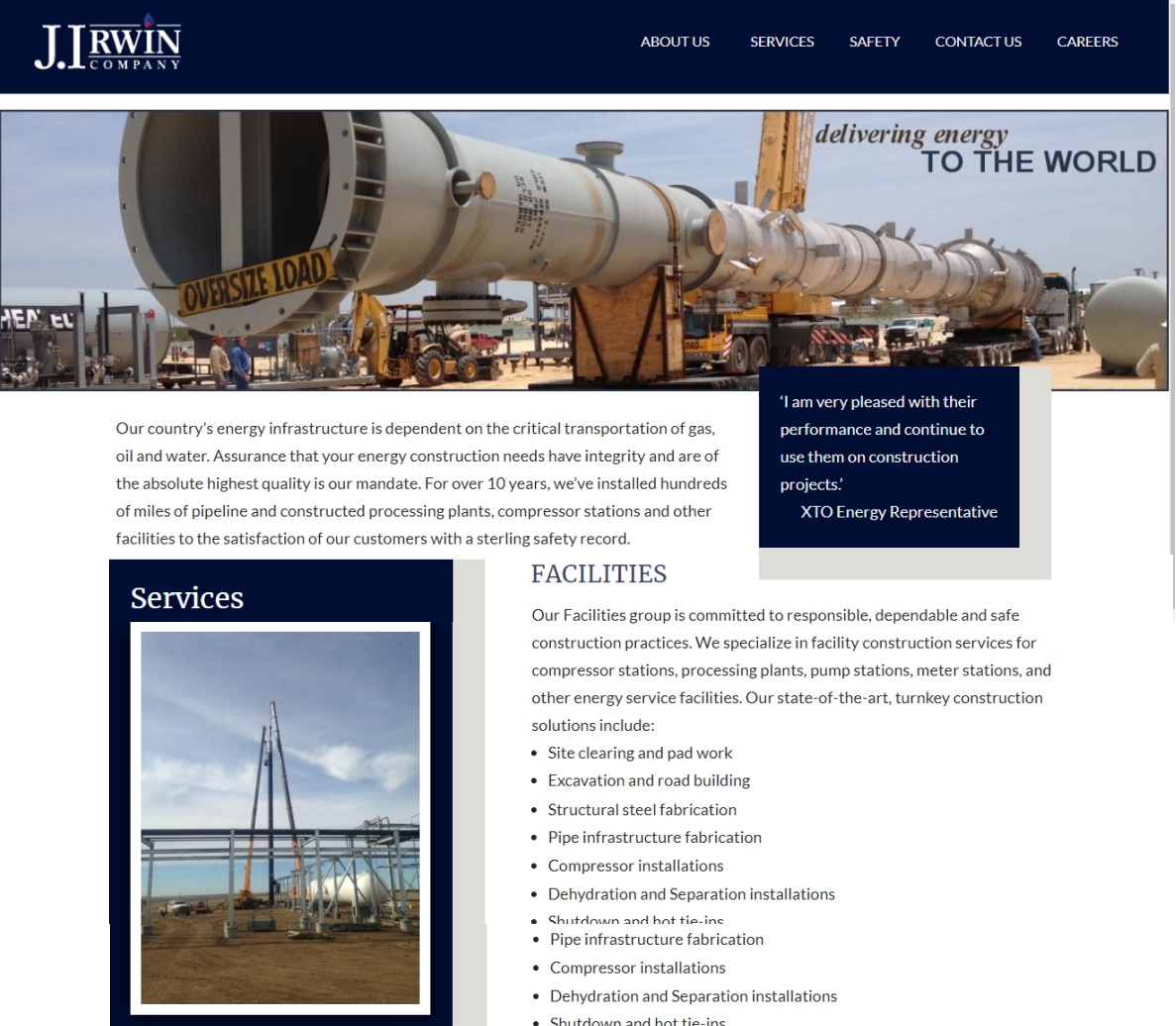 J Irwin Company
This is a very clean, elegant website recently redesign for a long-standing client. Their goal was a basic, no-frills yet still appealing website to showcase their services. We kept the site informative and used accents on the images to enhance the graphic appeal.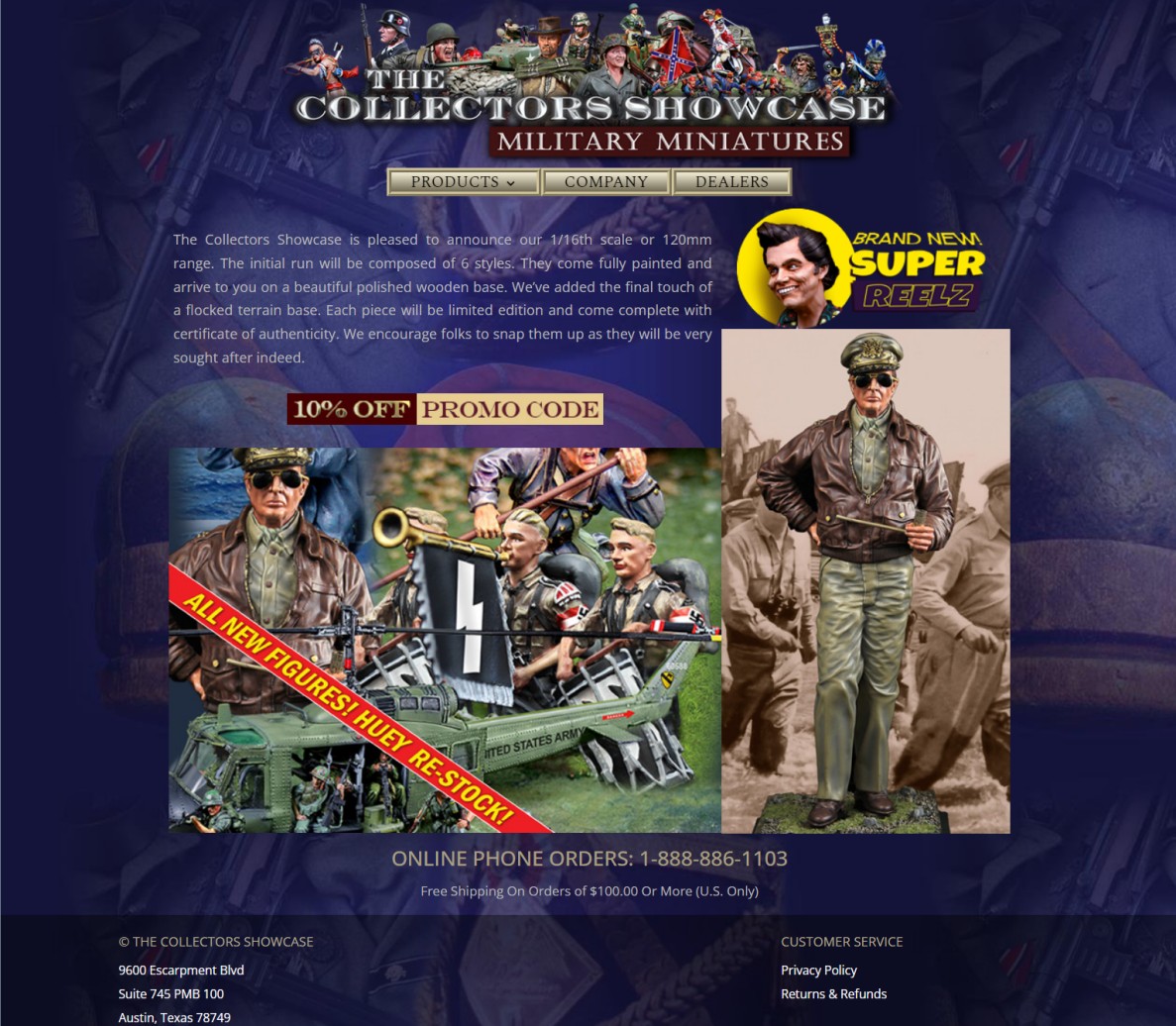 The Collector's Showcase
This e-commerce site has recently been redesigned for another long-standing client. Their focus is miniature soldiers for collectors and dioramas and they sell their products globally. We've added a mailing list feature that gives the customer a discount coupon and some complex shipping coding as well as a download feature for resellers to access product images.